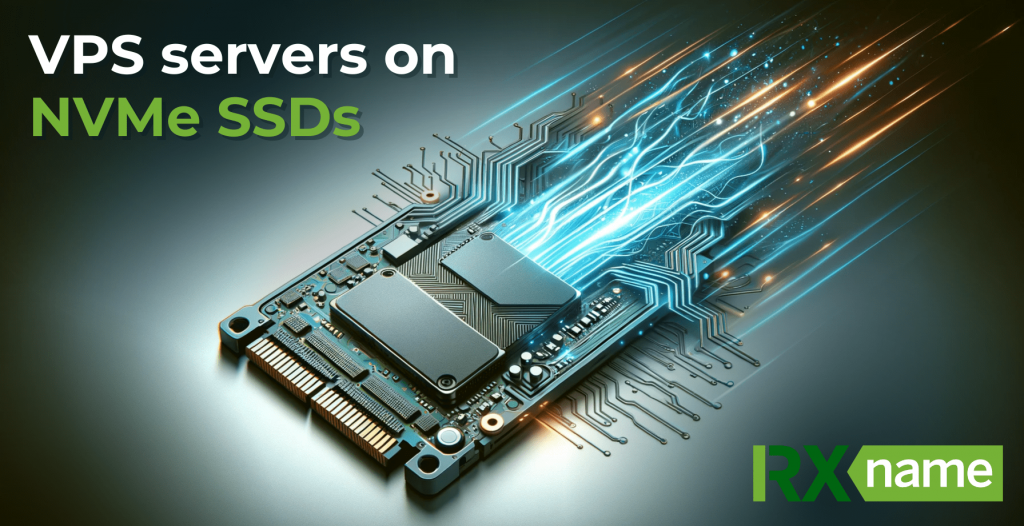 Dear RX-NAME clients, we are excited to share thrilling news that will change your perception of the hosting world. RX-NAME now offers the unique opportunity to order VPS servers powered by cutting-edge NVMe drives.
NVMe (Non-Volatile Memory Express) drives are not just ordinary SSDs. They represent a revolutionary technology that delivers incredible benefits. The reading and writing speeds are increased by 5-7 times compared to traditional SSD drives. How is this achieved? NVMe technology utilizes a direct connection to the PCIe bus, ensuring instant access to your data and resources, even under heavy loads.
We understand the importance of this aspect for our clients and are ready to delight each of you even more! Use the promo code «VPSNVME-10» when ordering the new NVMe drive VPS service and receive a 10% discount from us.
But note that this offer is only valid from November 9 to November 16 inclusive.
Don't miss your chance to elevate your hosting to a new level of productivity with the most advantageous terms from RX-NAME today.
Together, we will enhance the speed of your projects and make them even more successful.
For more information about VPS servers on NVMe drives, visit our website at rx-name.net or read one of our articles on the blog.
Have additional questions or need a consultation?
Contact our support service at 0 800 21-05-05. We are available 24/7, ready to answer all your queries and provide the necessary assistance at any time.
Join RX-NAME and become a part of a true revolution in the hosting world, taking a new step towards the advanced technologies of today!